WATER FOR MEDICAL PROCESS (DIALYSIS)
The regulations and specific obligations for dialysis are approximately the same in all countries. Most of our European and global partners have chosen to automate and above all to secure the water quality control process, to meet the conditions beyond what is required, but also and above all to guarantee a process mastered from A to Z for the smooth running of treatment therapies.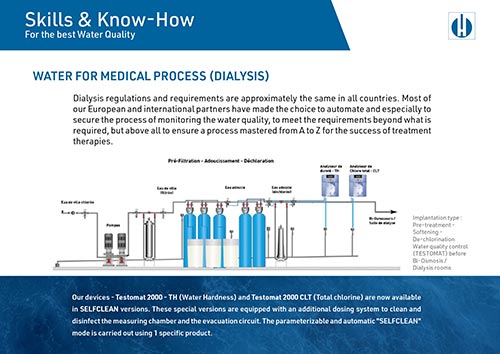 Wastewater from industries must be treated, at the risk of altering the quality of the natural environment into which it will be discharged. Depending on the hardness of the water, various techniques can be implemented.
We offer the installation of the TESTOMAT 2000® analyzer. This device is used to measure and analyze the quality of water in treatment facilities.
Complying with all applicable European standards, it can be combined with control units or process measuring devices.
"The TESTOMAT 2000® analyzer, an innovative equipment. "
EQUIPMENT SUPPLIER
TAILORED
We can provide you with all the equipment and instruments needed for your water treatment facilities. We have, among other things, a wide range of control units for softeners or reverse osmosis, as well as process measuring instruments.
You explain your needs to us, and we will suggest the most appropriate equipment. If necessary, we can also create tailor-made devices, specially adapted to your installations.
To optimize your wastewater treatment system, trust us!
"Custom-made devices, specially adapted to your installations. "
FOR MORE INFORMATION,
ASK US YOUR QUESTIONS.